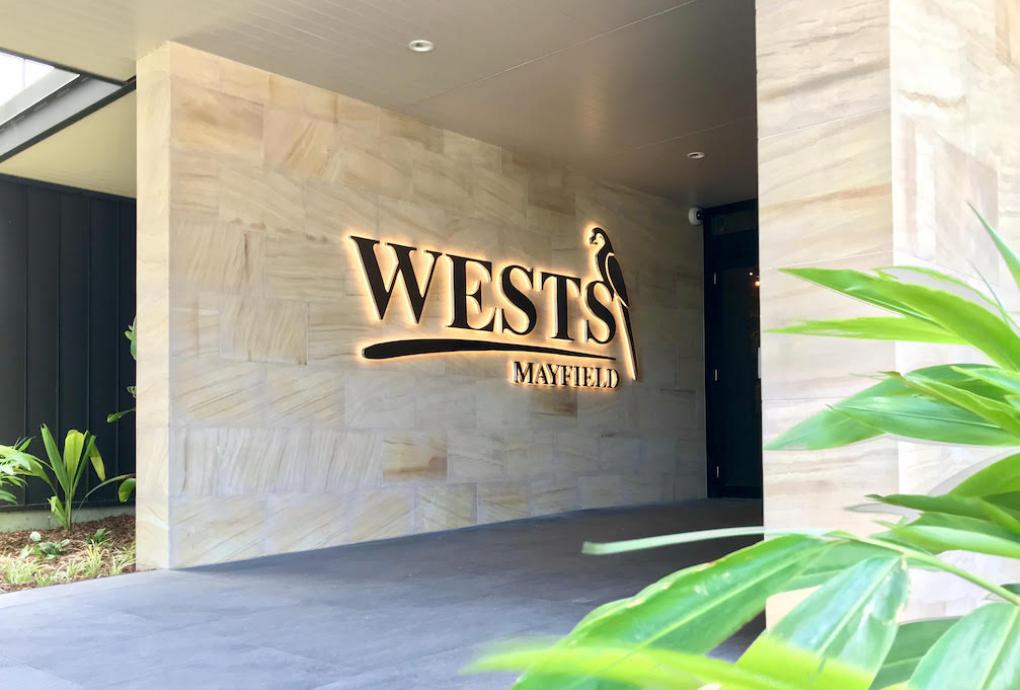 SWS manufactured a stainless steel halo-lit letters pin fixed to a tiled wall to create a striking focal point on entry to the venue from the Gateway Inn.
The work we did with Wests Mayfield was an exciting and challenging job that resulted in something we are really proud of, and that Wests extremely happy with.
Lead time: Eight weeks
Specs: Overall size 1400mm high x 3200mm wide x 50mm return (30mm stainless steel + 20mm acrylic return)
The project
The illuminated entry signage at Wests was a particularly challenging job with multiple stakeholders involved. However, between the architect, builder and customer feedback, we were able to confidently identify potential issues or pressure points and create positive solutions.
Being individual letters and logo elements chemset into a brick wall covered with large format stone tiles, we provided the builder with a template for the mounting points as well as the wiring locations for each letter and logo element. The electrician ran the low voltage cabling through the designated locations for each item.
The illuminated text and logo were manufactured from brushed stainless steel face and part returns with a fixed clear acrylic return attached to the bottom for back illumination onto the tiled wall. This also ensures an enclosed solution with no access moisture or prying fingers getting behind the letters.
The Meanwell power supply was then connected and located behind the wall away from the signage itself for ease of access.
Outcome
EJE Architects, Skelcon and most importantly The Wests Group themselves were thrilled with the final outcome.
See more of our Outdoor LED Sign projects
BACK TO LISTINGS